Private tours to Chartres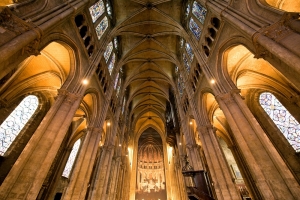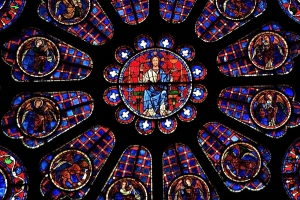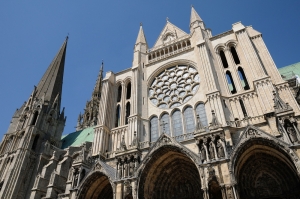 Practical information for visiting Chartres
The cathedral is currently undergoing major renovation work at a cost of several million Euros to theFrench Ministry of Culture. The work is expected to be completed by the end of 2016. However the building will remain open throughout. The cathedral is open every day from 8.30 a.m. to 7.30 p.m. and entrance is free. Your visit will made even more fascinating in the company of an expert tour guide which we can book for you.
History of the Cathedral of Notre Dame de Chartres
In fact there are not one but two cathedrals in the town of Chartres. This is because the stunning Gothic cathedral we see today was built on the ruins of a Romanesque cathedral which was destroyed by a terrible fire in 1194. The origins of this building's construction are very ancient and date back to the year 350. Destroyed by the Vikings and restored again by both Charles the Bald and then Bishop Fulbert, the cathedral was completely burnt down in the fire of 1134.
It took about thirty years for the present-day building to be constructed.
Every description of Chartres cathedral tells the story of King Henri IV's coronation, which took place there on February 27th in 1594. Legend has it that the king entered the cathedral on horseback. The truth is less impressive as he actually arrived on foot. The event itself was unique: it was the one and only time that a French king was not crowned in Reims cathedral (which happened to be under siege at the time).
Chartres cathedral is a masterpiece of Gothic art and hugely influenced the development of this architectural style not just in France but also in the rest of the world. Notre-Dame-de-Chartres symbolizes medieval Christianity and exemplifies Gothic art.
The stained glass windows of Chartres cathedral
As a visitor entering the cathedral, you will immediately be dazzled by the beauty of the stained glass windows which embellish the building. In all there are 172 bays and windows displaying 28,000 square feet of glass. The most dominant color for the stained glass windows is a cobalt blue which is unique to Chartres and is now known as « Chartres blue ».